Josefa Rounded Reduced Bold
Josefa Rounded famiglia consistente in 14 caratteri
JosefaRoundedReduced-Bold.ttf
-->
Tag
Nota dell'autore
Josefa Rounded Reduced Bold font is a sans serif font without rough edges designed by Ingo Zimmermann of ingoFonts.

Josefa Rounded is a beautiful text typeface. Its unostentatious forms and balanced narrow proportions along with the softened round edges make it to appear gentle and pleasing even in longer texts.

Modern, very legible

Narrow proportions

High x-height

Distinctive forms

Determining for the personality of Josefa Rounded are also particular idiosyncratic letters. For instance B P and R is designed openly; the bars of E and F equal each other; lower case c and e are distinctly withdrawn in their lower zone; y is symmetrical.
Short ascenders generate compact word images. Cap height is shorter than the ascenders, so capitals are only little higher than x-height.

Josefa Rounded is provided in 7 weights including the corresponding italics.

Tabular figures and proportional figures are available through the appropriate OpenType function as well as ligatures and discretional ligatures.

2 versions of Josefa Rounded are available:
Josefa Rounded Standard supports all Western and Northern European languages (Unicode Latin 1)
Josefa Rounded Pro furthermore supports Middle and Eastern European languages, Turkish, Greek and Cyrillic (Latin Extended A, ISO 8859-1, Cyrillic & Cyrillic Supplement)

The font downloadable here is a reduced version (without punctuation, ligatures, numbers etc.). A commercial version of this font (with all features) is available at www.ingofonts.com.
Mappa caratteri
Si prega di utilizzare il menu a tendina per visualizzare le mappe di caratteri diversi contenuti in questo tipo di font.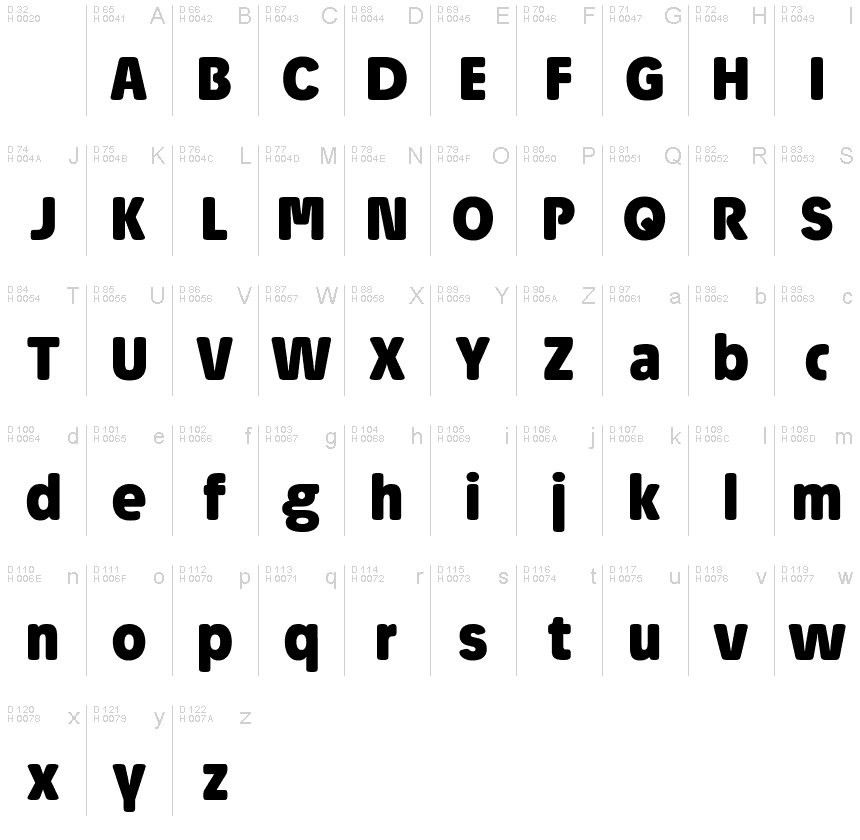 Informazioni di base caratteri
Dichiarazione di Copyright
Copyright (c) 2017 by Ingo Zimmermann, Augsburg. Alle Rechte vorbehalten.
Sottofamiglia unico di identificazione
IngoZimmermann,Augsburg: Josefa Rounded Reduced Bold: 2017
Josefa Rounded Reduced Bold
JosefaRoundedReduced-Bold
Josefa Rounded Reduced Bold ist eine Marke von Ingo Zimmermann, Augsburg.
Copyright (c) 2017 by Ingo Zimmermann, Augsburg. All rights reserved.
Informazioni estese caratteri
Piattaforme supportate
PiattaformaCodifica
Unicode
Unicode 2.0 e poi semantica, unicode BMP solo
Microsoft
Unicode BMP solo
Dettagli carattere
Incorporare i diritti
Incorporamento per l'installazione permanente
Classe famiglia
Senza terminazioni
Direzione
Solo fortemente sinistra a destra glifi + contiene neutrali
Pack completo contiene 14 font di seguito elencati:
JosefaRoundedReduced-Bold.ttf
JosefaRoundedReduced-Light.ttf
JosefaRoundedReduced-Medium.ttf
JosefaRoundedReduced-BookItalic.ttf
JosefaRoundedReduced-Thin.ttf
JosefaRoundedReduced-Black.ttf
JosefaRoundedReduced-BlackItalic.ttf
JosefaRoundedReduced-Book.ttf
JosefaRoundedReduced-LightItalic.ttf
JosefaRoundedReduced-ExtraLightItalic.ttf
JosefaRoundedReduced-BoldItalic.ttf
JosefaRoundedReduced-ExtraLight.ttf
JosefaRoundedReduced-ThinItalic.ttf
JosefaRoundedReduced-MediumItalic.ttf