Ambra Sans Text Trial Light Italic
Ambra Sans famiglia consistente in 30 caratteri
Accenti (parziale)
Accenti (completo)
Euro
Ambra-Sans-Text-Light-Italic-trial.ttf
-->
Tag
Nota dell'autore
Ambra Sans Text Light Italic is a stunning extra-light sans serif font designed by Francesco Canovaro. This typeface is perfect for projects that require a modern and minimalist touch, such as branding, editorial design, and digital applications. Its elegant curves and clean lines make it easy to read and navigate through long paragraphs of text. Ambra Sans Text Light Italic's delicate italic style adds an air of sophistication to any project, making it suitable for high-end fashion magazines or luxury brand advertisements. Whether you're designing a website or creating printed materials, this font will give your project the edge it needs to stand out from the crowd.
The font here is for PERSONAL/NON-COMMERCIAL USE ONLY!
To download the full font family (all weights, glyphs and numbers) and acquire the commercial license please visit our website:
https://zetafonts.com/ambra-sans
Join the exclusive Type Club to get free fonts and special offers on new releases!
https://www.zetafonts.com/typeclub
CONTACT US:
website:
https://www.zetafonts.com
have a question?:
info@zetafonts.com
---
Designed by Cosimo Lorenzo Pancini with Francesco Canovaro as a development and reinvention of Tarif by Andrea Tartarelli, Ambra is a humanist sans typeface family, drawn around a lively, expressive skeleton but developed with a contemporary, post-digital sensibility that implies low contrast and tall x-height.
In designing Ambra, the authors wanted to research the elusive natural signature of handmade humanist letter shapes, in the effort of preserving it while still developing all the capabilities of type as a technical tool in the digital age. Like a frail insect preserved in amber, humanist design is the "ghost in the machine" of this font, that aims at seducing the viewers with its soft, welcoming text flow, firmly opposing the rigid, formal tone of most sans serif fonts. Born to provide a useful tool to graphic designers with branding and editorial needs,   
Ambra develops around two subfamilies with slight but fundamental differences. The display family offers a taller x-height, optimizing readability and spacing in headings and display use, while offering a single story lowercase g to provide more consistent branding usage. The text family, on the other side, goes for a smaller x-height to give more traditional proportion to the text and removes the slight tapering in the stems to provide better rendering on screen in small formats.
Both subfamilies of Ambra develop around a wide range of seven weights with corresponding true italics, with Ambra Display sporting an extra heavy weight for maximum versatility. In total the family counts 30 fonts, each with over 600 glyphs for a wide language coverage. Open type features and glyph alternates further enrich the usage possibility of this typeface that wants to offer contemporary designer an alternative, unexpectedly human approach to contemporary sans type, softly preserving the spirit of handmade calligraphy while encasing its frail nature in a transparent, strong and powerful design language.
Mappa caratteri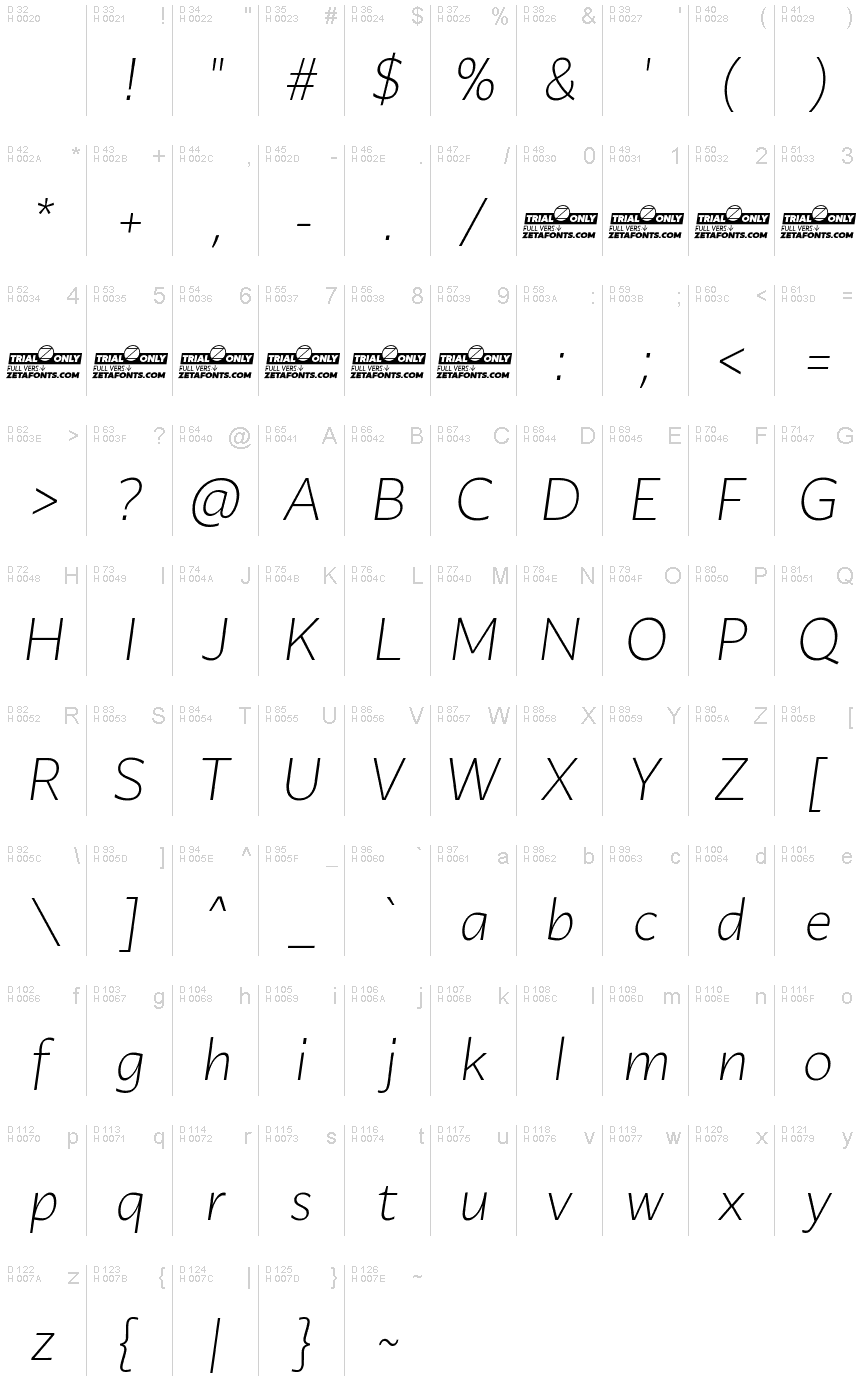 Informazioni di base caratteri
Informazioni estese caratteri
Piattaforme supportate
Dettagli carattere